The most dreadful time for the rabbit community is Easter, rabbit sales are at their highest and unfortunately they are promoted as starter pets and a great gift idea for Easter. Wrong! A rabbit is not a toy therefore it should never be given nor promoted as a great gift idea for Easter, and this goes for any animal.
On Sunday April 9, 2017 I will be attending a rally for the #notjust4easter campaign and I urge everyone to search for this campaign in their cities and attend the rally. #Notjust4easter is a national campaign that started in 2015 to decrease the number of live animals purchased as Easter gifts. Months after Easter has passed and the fad of having a "bunny" as a pet has passed these rabbits end up on the streets or in shelters, 80% of rabbits bought as Easter gifts face a sad fate. Many of these "Easter pets" end up ill due to lack of proper diet and care, injured, discarded or end up in kill shelters. Parents do not realize how delicate rabbits are nor how dedicated you need to be to properly care for them. There are lots of ways you can help spread the word, create a campaign and share it on Social Media, attend these rallies and share with friends, hit the streets with a peaceful protest at your local pet store; help bring awareness to this campaign!
A few years back I created the below photo and have been sharing it year after year, please feel free to share it and help bring awareness!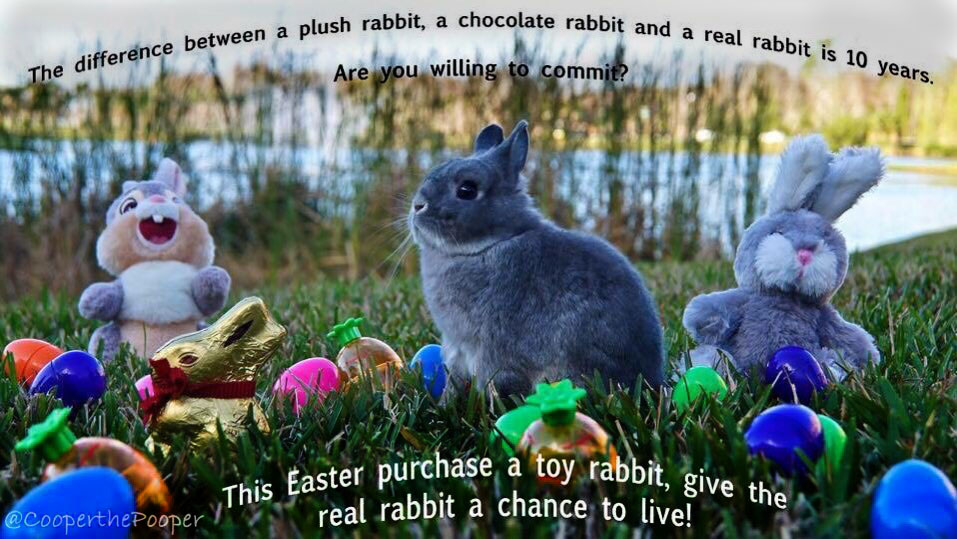 Rabbits deserve a loving home, not end up locked in a small cage or hutch to be forgotten and die a slow death. Some rabbits have been deadly injured in the hands of children because they seem like a cute, cuddly toy. I've seen and read horror stories about Easter rabbits, this is why we need to speak up for them as they cannot speak for themselves!